Blank 12 Stripe 13.5 Gram Poker Chips
Regular price
Sale price
$0.21 USD
Unit price
per
Black Blank 12 Stripe Poker Chips
Dark Blue Blank 12 Stripe Poker Chips
Green Blank 12 Stripe Poker Chips

Light Blue Blank 12 Stripe Poker Chips

Orange Blank 12 Stripe Poker Chips

Pink Blank 12 Stripe Poker Chips
Purple Blank 12 Stripe Poker Chips

Red Blank 12 Stripe Poker Chips
White Blank 12 Stripe Poker Chips

Yellow Blank 12 Stripe Poker Chips
YOU MIGHT ALSO LIKE
Check items to add them to your basket or select all.
Details
Thinking of blank chips? Take your choice to the next level with Claysmith Gaming's 12 Stripe Blank Poker Chips. These are the chips used in many of their popular lines such as the Gold Rush, Desert Heat and Bluff Canyon sets.
These high quality clay-composite poker chips weight 13.5 grams each. They are set on the greek key mold developed by Claysmith Gaming to mimic some of the world's most famous casinos in the world. This mold features the tri-stripe edge spot, which really draws attention to the outside of the chip, instead of the inlay like many traditional chips.
Bottom line is that you will not find another like it. The 12 Stripe Blank Chips are available in 10 different colors to fit any denominations you might need.
| | |
| --- | --- |
| Chip Diameter | 39mm |
| Chip Material | Clay Composite |
| Chip Weight | 13.5 Gram |
| Has Denominations | No |
| Inlay Diameter | 25.4mm |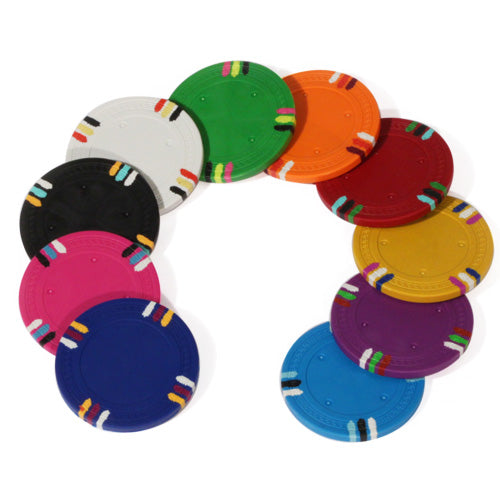 Smooth
Using the chips to display golf course ball markers from courses I played. Best is the metal weight in middle. If you have magnet on marker it clings to center of chip. These are perfect for displaying!
Now that's a nice poker chip
Just as advertised. Blank poker chip, perfect condition from shipping. Looks like a great product and will be purchasing more soon! Also great price!