Bluff Canyon 13.5 Gram Poker Chips
Regular price
Sale price
$0.24 USD
Unit price
per

Brown Bluff Canyon Poker Chips - $0.25

Gray Bluff Canyon Poker Chips - $0.50

White Bluff Canyon Poker Chips - $1
Red Bluff Canyon Poker Chips - $5

Dark Blue Bluff Canyon Poker Chips - $10

Green Bluff Canyon Poker Chips - $25

Light Blue Bluff Canyon Poker Chips - $50

Black Bluff Canyon Poker Chips - $100

Purple Bluff Canyon Poker Chips - $500

Yellow Bluff Canyon Poker Chips - $1,000

Pink Bluff Canyon Poker Chips - $5,000

Orange Bluff Canyon Poker Chips - $10,000
YOU MIGHT ALSO LIKE
Check items to add them to your basket or select all.
Details
Welcome yourself back to the good old days of poker in the wild wild west with the Bluff Canyon Poker Chips. These poker chips are based on the famous Venetian poker room casino chips.
The Bluff Canyon Chips feature the greek key mold that many casinos around the world use to provide an extra layer of texture to their poker chips. This intricate mold is divided by four sets of three stripe edge spots also found in several other Claysmith Gaming Poker Chips. This all surrounds the rugged inlay that promptly displays the poker room designation on top of two leafs. To the bottom of that is the chip's denomination as well as the fictitious city Bluff, Arizona, while on top of the designation is the banner for the Bluff Canyon Casino.
This poker chip is available in 12 different denominations and colors making it perfect for any poker game. No matter what type of gameplay is going on the Bluff Canyon Casino Chips are sure to make the action more rugged.
| | |
| --- | --- |
| Chip Diameter | 39mm |
| Chip Material | Clay Composite |
| Chip Weight | 13.5 Gram |
| Has Denominations | Yes |
| Inlay Diameter | 25.4mm |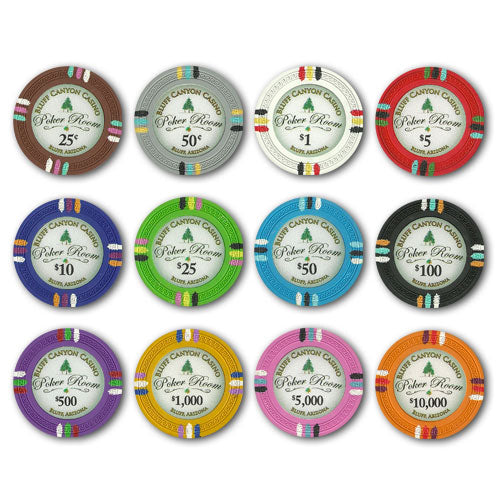 poker chips are good
overall all of the poker chips are very nice and I am satisfied with almost everything they look and feel amazing, I wasn't too happy with the color of the red chips, in the picture the red color looks more vibrant and bright and when i happened to receive my chips the red was more of a maroon and dark, me and my buddy's play outside with led lights and stuff so it's somewhat hard to tell the difference fast from a red chip to a brown chip or or black chip as the red isn't as vibrant and bright as I was hoping
Love Them!
Received the chips Thursday, played with them on Friday and got lots of compliments. Everyone really liked the chips.
The poker chips feel & look great. Even when I had an issue with 1 of the chips being damaged I w...
Love how the chips look like they came from a real casino. Every time I use them someone ask how I was able to get casino chips? I look forward to completing my bluff canyon set.
Great price, great service!
These guys were really on top of my order. Constant communication, product arrived when they said, and you can't beat the price. I will order more when I organize my tournament game.
awesome!!!
Love the chips. Great weight and feel. Vibrant colors. Everyone in my group loved them.