Eclipse 14 Gram Poker Chips
Regular price
Sale price
$0.12 USD
Unit price
per
Brown Eclipse Poker Chips - $0.25

Orange Eclipse Poker Chips - $0.50

Grey Eclipse Poker Chips - $1

Red Eclipse Poker Chips - $5

Dark Blue Eclipse Poker Chips - $10

Green Eclipse Poker Chips - $25

Light Blue Eclipse Poker Chips - $50
Black Eclipse Poker Chips - $100

Purple Eclipse Poker Chips - $500
Yellow Eclipse Poker Chips - $1,000

Pink Eclipse Poker Chips - $5,000
YOU MIGHT ALSO LIKE
Check items to add them to your basket or select all.
Details
Gear up for your next poker game with the Eclipse Poker Chips! These one of a kind poker chips are perfect for any home game with large denominations for easy gameplay.
These designs are set on the blank eight stripe clay-composite poker chips. Each chip has a large gear inlay with the denominations printed both numerically and alphabetically in large, bold font. This set has 11 different colors and denominations to make them perfect for high and low limit poker games.
| | |
| --- | --- |
| Chip Diameter | 39mm |
| Chip Material | Clay Composite |
| Chip Weight | 14 Gram |
| Has Denominations | Yes |
| Inlay Diameter | 31mm |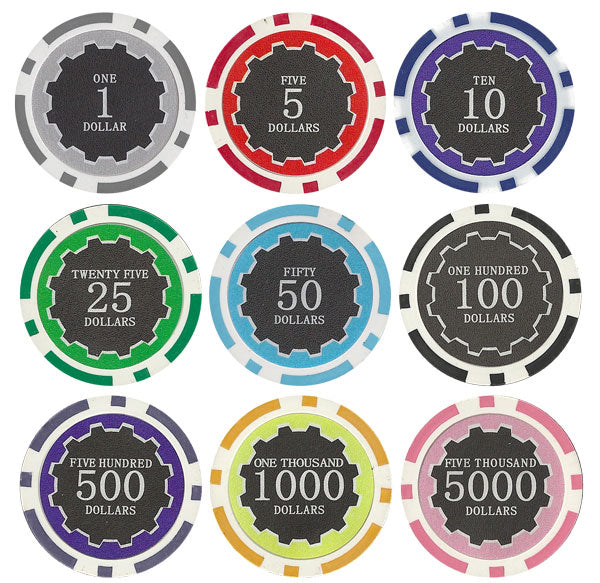 Crowd pleaser!
I bought a set of 1000 years ago. They've held up great. They look awesome. They feel good in the hand and my buddies are always impressed. I'm not looking to replace them… I'm looking to add to them now.
Awesome!!
I purchased these back in 2015 and they have held up very well. I use them with board games instead of money and they have an awesome feel to them.
Excellent product quickly shipped!
Everything was well packaged and I'm so pleased at the speed of delivery.
Well done!
Awesome!
Great feel and weight. Some of the edges were a little rough but all in all really nice chips for the price.