Gold Rush 13.5 Gram Poker Chips
Regular price
Sale price
$0.24 USD
Unit price
per

Brown Gold Rush Poker Chips - $0.25

Gray Gold Rush Poker Chips - $0.50

White Gold Rush Poker Chips - $1

Red Gold Rush Poker Chips - $5

Dark Blue Gold Rush Poker Chips - $10
Green Gold Rush Poker Chips - $25

Light Blue Gold Rush Poker Chips - $50

Black Gold Rush Poker Chips - $100

Purple Gold Rush Poker Chips - $500

Yellow Gold Rush Poker Chips - $1,000

Pink Gold Rush Poker Chips - $5,000

Orange Gold Rush Poker Chips - $10,000
YOU MIGHT ALSO LIKE
Check items to add them to your basket or select all.
Details
Make your game golden with the Gold Rush Poker Chips! These chips mimic the design of the Golden Nugget casino and will bring an old vegas feel to you poker table.
These 13.5 gram poker chips have a greek key mold that is separated by four sets of striped line edge spots. This all surrounds the centerpiece of the poker chips inlay, a golden nugget. As well the inlay features "Gold Rush", the name of the chip circling the nugget and then the denomination of the poker chip on the outer lining on the inlay both numerically and alphabetically.
This clay composite chip comes in 12 different denominations to fit every poker game imaginable from the highest staked tournaments to low limit.
| | |
| --- | --- |
| Chip Diameter | 39mm |
| Chip Material | Clay Composite |
| Chip Weight | 13.5 Gram |
| Has Denominations | Yes |
| Inlay Diameter | 25.4mm |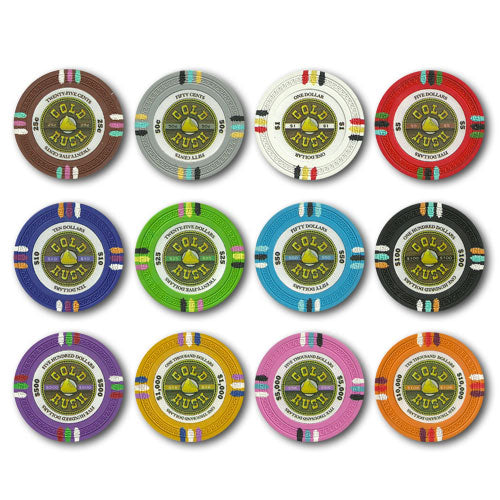 Good Product, Good Price & Great Service!
shopped around a bunch and Chip Cave had some of the cheapest pricing. Shipping was a bit higher and the packing wasn't the best, but overall definitely satisfied.