Hi Roller 14 Gram Poker Chips
Regular price
Sale price
$0.12 USD
Unit price
per

Grey Hi Roller Poker Chips - $1

Red Hi Roller Poker Chips - $5

Dark Blue Hi Roller Poker Chips - $10

Green Hi Roller Poker Chips - $25

Light Blue Hi Roller Poker Chips - $50

Black Hi Roller Poker Chips - $100

Purple Hi Roller Poker Chips - $500

Yellow Hi Roller Poker Chips - $1,000

Pink Hi Roller Poker Chips - $5,000

Orange Hi Roller Poker Chips - $10,000
YOU MIGHT ALSO LIKE
Check items to add them to your basket or select all.
Details
Are you a hi roller? You are when you have the Hi Roller Poker Chips! These clay-composite chips take your game to a higher level!
Each poker chip weighs 14 grams each and is set on the 8 stripe blank poker chip. The high roller chips have a unique inlay which shines as if it were metal, which features one of the best hands in poker on the top and the denomination in bold font on the bottom. They come in 10 different colors and denominations ranging from 1 to 10,000 dollars.
| | |
| --- | --- |
| Chip Diameter | 39mm |
| Chip Material | Clay Composite |
| Chip Weight | 14 Gram |
| Has Denominations | Yes |
| Inlay Diameter | 31mm |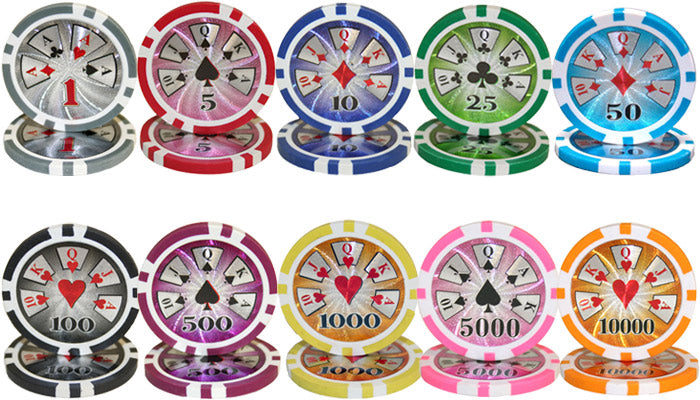 Great Value
These chips are great for the price! They have a great shine and feel solid in the hand. Great job ChipCave!!