Kings Casino 14 Gram Poker Chips
Regular price
Sale price
$0.17 USD
Unit price
per

Brown Kings Casino Poker Chips - $0.25

Grey Kings Casino Poker Chips - $0.50

White Kings Casino Poker Chips - $1

Red Kings Casino Poker Chips - $5

Dark Blue Kings Casino Poker Chips - $10

Green Kings Casino Poker Chips - $25

Light Blue Kings Casino Poker Chips - $50
Black Kings Casino Poker Chips - $100

Purple Kings Casino Poker Chips - $500

Yellow Kings Casino Poker Chips - $1,000

Pink Kings Casino Poker Chips - $5,000

Orange Kings Casino Poker Chips - $10,000
YOU MIGHT ALSO LIKE
Check items to add them to your basket or select all.
Details
Do you have the best card room in town? Not until you have the King's Casino Poker Chips at your tables. The name says it all, these chips were meant for royalty!
These chips weight 14 grams each and are made from a high grade clay-composite material. So unlike true clay poker chips they are not brittle and show little signs of wear. However these chips still have the feel and sound of real casino chips. Each one has a rare tri-tone edge spot that surrounds the unique king inlay that gives these chips their name. The denomination of each chip is clearly printed in the center of the chip in a bold black circle for clarity. The King's Casino Poker Chips are available in an astonishing 12 colors and denominations, so you really can play any limit with these bad boys.
| | |
| --- | --- |
| Chip Diameter | 39mm |
| Chip Material | Clay |
| Chip Weight | 14 Gram |
| Has Denominations | Yes |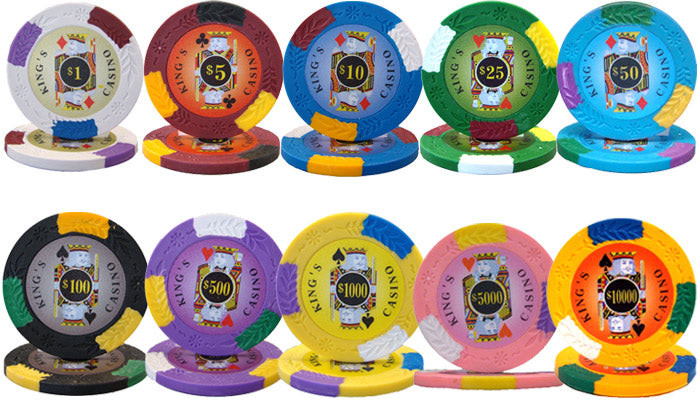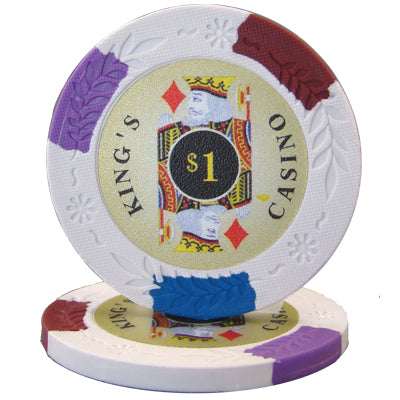 Great chips and Great customer service!!
Recently purchased 1200 of these chips. The quality is as good as my local Harrah's poker room.
More importantly I want to thank Chip Cave. Channing was great answering my questions to help me select the best chips for my game. It's nice to see an internet company provide customer service. Other sites I contacted were not at all helpful or really interested in proving any customer service. I'm glad I eventually found Chip Cave
Anything else I need in the future will be purchased from Chip Cave
Great Chips
These chips are great. Exactly what I was looking for. They are heavy (which I prefer) and balance great. They look amazing and after evaluating all the chips, there are no defects. The inlay appears to be set perfectly and I can't imagine any issues as with other cheap chips. I will absolutely order more products from this site. I don't have a bad thing to say.