Las Vegas 14 Gram Poker Chips
Regular price
Sale price
$0.12 USD
Unit price
per

Grey Las Vegas Poker Chips - $1

Red Las Vegas Poker Chips - $5

Dark Blue Las Vegas Poker Chips - $10
Green Las Vegas Poker Chips - $25

Light Blue Las Vegas Poker Chips - $50
Black Las Vegas Poker Chips - $100

Purple Las Vegas Poker Chips - $500

Yellow Las Vegas Poker Chips - $1,000

Pink Las Vegas Poker Chips - $5,000

Orange Las Vegas Poker Chips - $10,000
YOU MIGHT ALSO LIKE
Check items to add them to your basket or select all.
Details
Bring the spirit of Vegas to your next home game with the Las Vegas Poker Chips! These chips not only feel and sound like real poker chips but they have the Las Vegas, Nevada sign printed right on each chip.
These 14 gram poker chips are made from a clay-composite material to give them their real casino look and feel. Each one has the denomination printed right below the Las Vegas sign as well as the words "Casino" and "Las Vegas, Nevada" printed around the outside of the inlay. These chips come in 10 different colors and denominations to suit any type of game you feel like having.
| | |
| --- | --- |
| Chip Diameter | 39mm |
| Chip Material | Clay Composite |
| Chip Weight | 14 Gram |
| Has Denominations | Yes |
| Inlay Diameter | 31mm |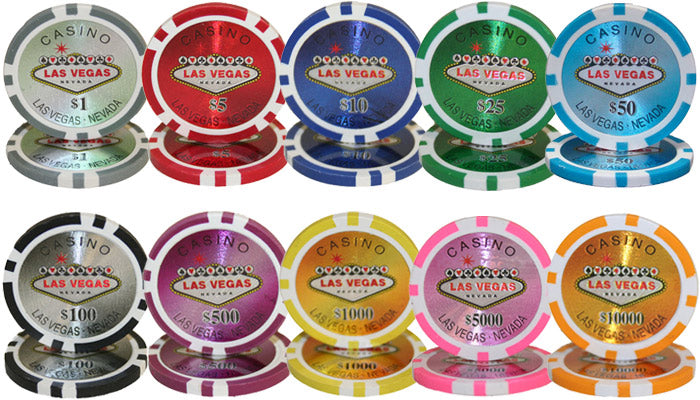 Company processed my order in a timely fashion.
Love the chips, the way they shine and the way they feel. Love the sound they make when I'm pulling them across the poker table toward my spot. Good Job Chip Cave!!
No problems at all. Went smooth.
14 gram chips
Service was truly excellent! Chips have a wonderful feel and a great sound! All around, I greatly enjoy dealing with Chip Cave!
Great Chips. HIGH Shipping!
So the Chips are AWESOME! The shipping was as high as the chips. Biggest complaint was that the 200 count poker chip tray lid was stuck upside down on the tray. I have no idea why they did that. It caused the lid to be jammed in the tray and I couldn't get it unstuck. It took 5 separate attempts before I got it loose and I was seconds away from quitting and requesting a new one be sent. Other than that and shipping it was fine.