Milano 10 Gram Clay Poker Chips
Regular price
Sale price
$0.44 USD
Unit price
per

Brown Milano Poker Chips - $0.25
Gray Milano Poker Chips - $0.50

White Milano Poker Chips - $1

Red Milano Poker Chips - $5

Dark Blue Milano Poker Chips - $10

Green Milano Poker Chips - $25

Light Blue Milano Poker Chips - $50

Black Milano Poker Chips - $100

Purple Milano Poker Chips - $500

Yellow Milano Poker Chips - $1,000

Pink Milano Poker Chips - $5,000

Orange Milano Poker Chips - $10,000
YOU MIGHT ALSO LIKE
Check items to add them to your basket or select all.
Details
The Milano Poker Chips use clay and other materials to create a compression molded chip that will rival any casino chip! These chips were designed to have a regal and noble look, mimicking the trend of upscale poker rooms trying to create a palace like atmosphere. This royal design has made the Milano chips stand out significantly, being Claysmith Gaming's first poker chip line to be used on television in CBS's Unforgettable.
These poker chips use a stitch and line mold. This mold has no historical influence, but does slightly resemble the early designs used at the Silver Slipper and Crystal Bay Club poker rooms. Claysmith Gaming's intentions were to create a very detailed mold to take advantage of the superior clay texture of the Milano Poker Chips. This mold has detailed indentations that give it a feel like no other and make the focus of the chip the outer edge of the poker chip versus the inlay, making the edge spot and mold marks shine. Thanks to this magnificent design these chips have been compared and even preferred to the current demi-god of poker chips, Paulson.
The inlay of the Milano Poker Chips was heavily influenced by the luxurious Bellagio Casino Chips. Both masterpieces are distinguished by their large easy to read denominations enclosed by scroll like images. Each has a very simple design that revolves around each's brand.
The double trapezoid edge spot that the Milano chips employ are very rarely used in today's casinos. This edge spot was used minimally in historic strip casinos and due to its appealing look, Claysmtih Gaming has brought it back to the poker world. Unlike older casinos though, Claysmith used vivid colors to create a very exciting poker chip layout.
| | |
| --- | --- |
| Chip Diameter | 39mm |
| Chip Material | Clay |
| Chip Weight | 10 Gram |
| Has Denominations | Yes |
| Inlay Diameter | 25.4mm |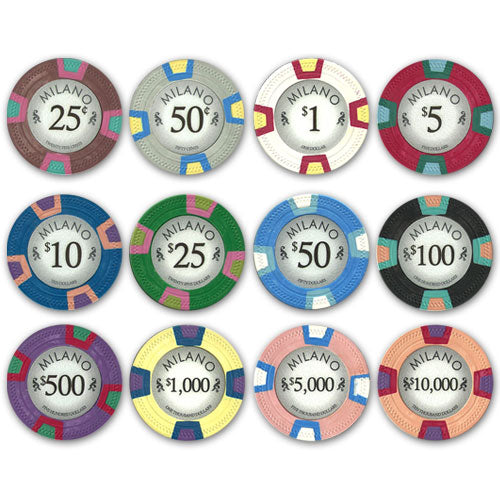 Quick shipping on great chips!
The Milano chips are lovely, with very easy to read numbers and a functional (not gaudy) design. And they arrived quicker than expected!
great quality
great quality chips great price highly recommend
Wow! Surprised how good these were
After enjoying lots of home poker games with family and friends I decided to upgrade my plastic dice chips I've been using to a more real feeling casino like chip to enhance the experience. I love the feel of real clay chips and I noticed the plastic chips we've been playing with don't quite compare to the chips you find in real casinos. In short, they're too heavy, the medal inserts make them sound different from real clay chips, and they just feel plasticy.
Now, if you want the real deal, that is, the same exact chips you see used in the big casinos of Las Vegas or in the WSOP you're looking at least $1 or more per chip! I'm talking about the one and only Paulson chips. If you're like me and can't quite justify spending that much on chips for the house but still want something that feels, looks, and sounds similar to the real thing for less than half the price, than consider these poker chips by claysmith gaming.
I like these chips!!
Huge improvement from the dice chips I was using. Although they're not considered real clay they feel pretty close to it and I am very satisfied for the price I paid. They look even better in person compared to the picture. The colors are solid and don't look like they will fade away or wear off. The inlays were surprising a lot better than expected and seem very durable. They sound good, stack good, shuffle good, and feel good. I can't really find anything bad to say about these chips they just handle so well.
There is not very many options when trying to find chips that feel like real clay at this price. The only other ones I found comparable to these were Paulson's new Pharoah china clay chips which are 42 cents each. For me the Milanos were good enough for my taste and for ten cents more the Pharoh's didn't look that much better to me. I would definitely check them out though people seem to like them on forums and other reviews.
Bottom line:
If you are wanting to bring a casino like atmosphere to your home games but don't want to spend a fortune on real clay chips than these are the way to go. Don't let the "china" clay label steer you away, these chips are of good quality.
This was my first time buying from this site and everything went smooth! The shipping arrived on time and the packaging was excellent! Many other sites sell these chips but I chose to buy them here because I couldn't find a better price - plus this site just looks cooler than all the other casino supply stores you see online. I'm glad I found this store and look forward to buying more chips here in the future.
Great Chips
Very similar sound and feel to the chips you find in the casino. I was comparing them to the chips I just picked up from the MGM Grand Hotel/Casino and they feel/sound so similar. Definitely glad I picked up a sample set. I went ahead and ordered a set soon after. Thanks Chip Cave!