Mint 13.5 Gram Poker Chips
Regular price
Sale price
$0.23 USD
Unit price
per
Brown Mint Poker Chip - $0.25
Grey Mint Poker Chip - $0.50

White Mint Poker Chip - $1

Red Mint Poker Chip - $5
Dark Blue Mint Poker Chip - $10

Green Mint Poker Chip - $25

Light Blue Mint Poker Chip - $50

Black Mint Poker Chip - $100

Purple Mint Poker Chip - $500

Yellow Mint Poker Chip - $1,000

Pink Mint Poker Chip - $5,000
Orange Mint Poker Chip - $10,000
YOU MIGHT ALSO LIKE
Check items to add them to your basket or select all.
Details
Claysmith Gaming really broke the bank with the Mint Poker Chips. Based on the famous Dell Webb's Mint Casino design, these poker chips are sure to bring the action to any game.
The Mint Poker Chips feature the gear wheel mold similar to the Rock & Roll Poker Chips. This gives the chips both design and texture to make each chip stand out. The Triangle and Stick edge spots surround this beauty, allowing the attention to be focused on the inlay. To keep it simple each inlay displays its denomination in large bold numbers, while spelling it out right below. Just by looking you can tell the amount of craftsmanship that went into these poker chips.
These chips are available in 12 different denominations and colors giving any game a wide variety of options to work with. They are sure to freshen up the game and keep everyone's eyes on the prize!
| | |
| --- | --- |
| Chip Diameter | 39mm |
| Chip Material | Clay Composite |
| Chip Weight | 13.5 Gram |
| Has Denominations | Yes |
| Inlay Diameter | 25.4mm |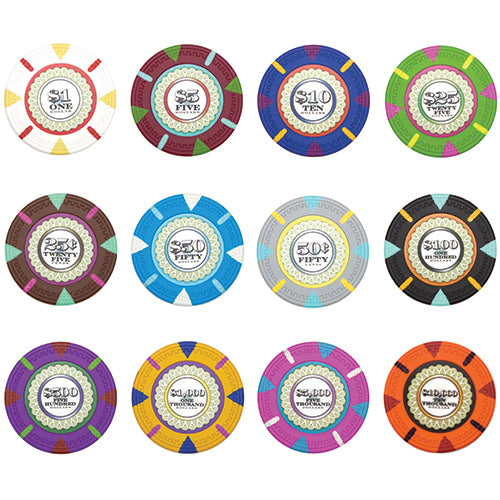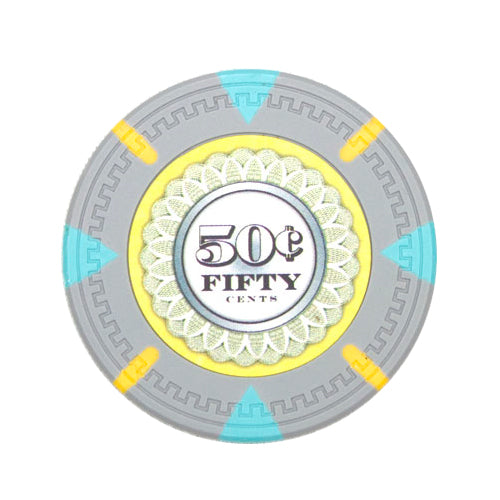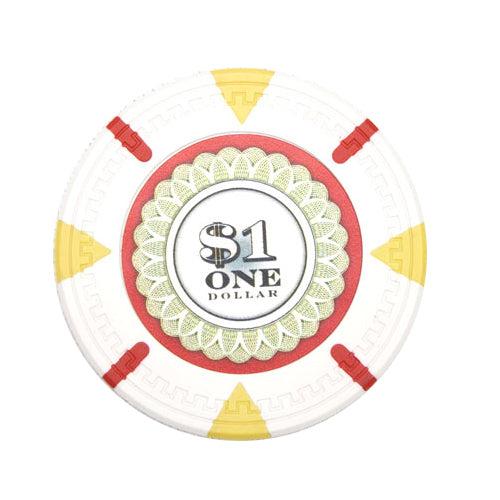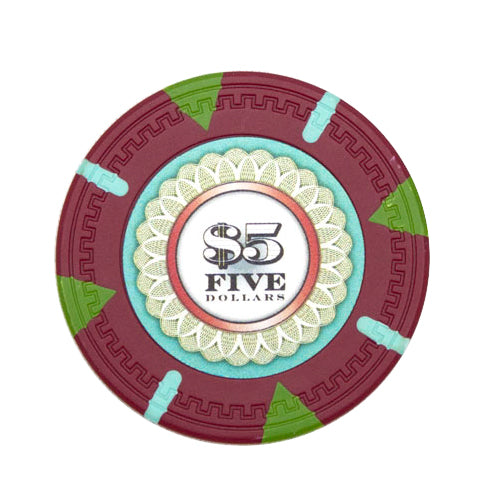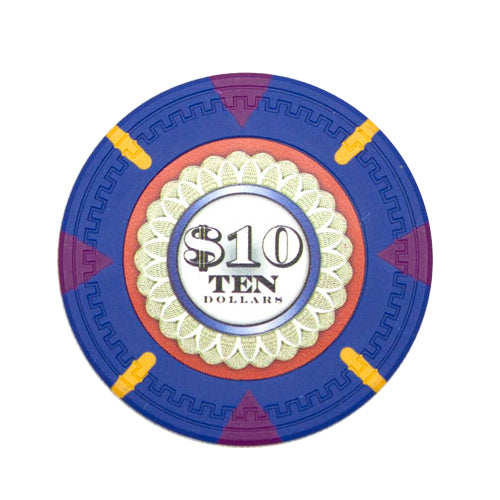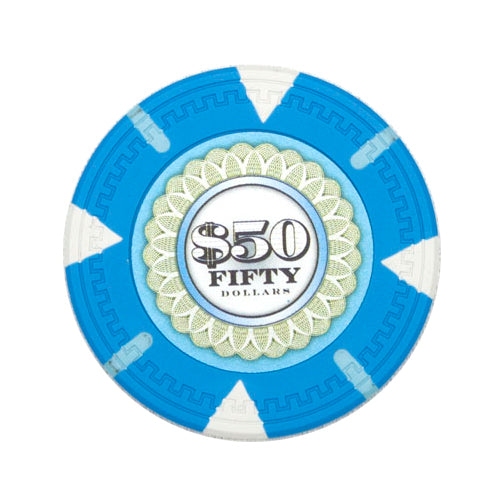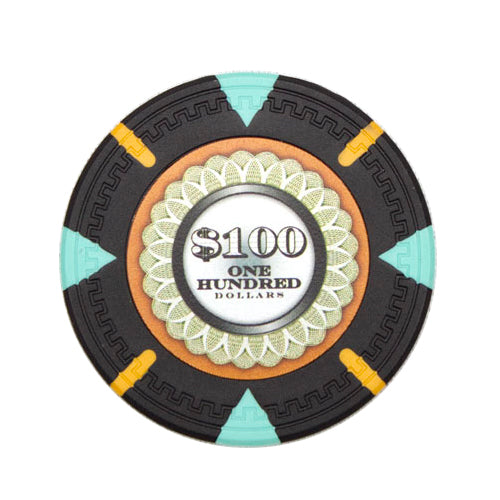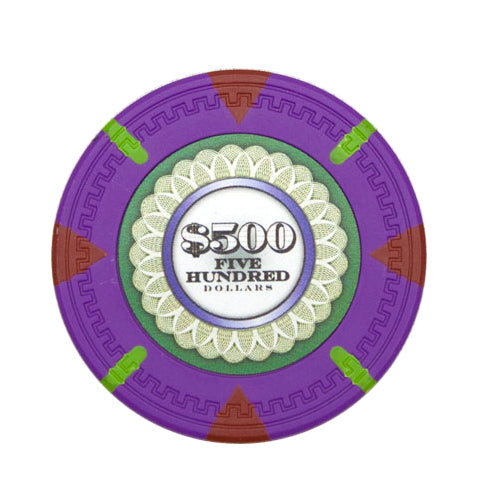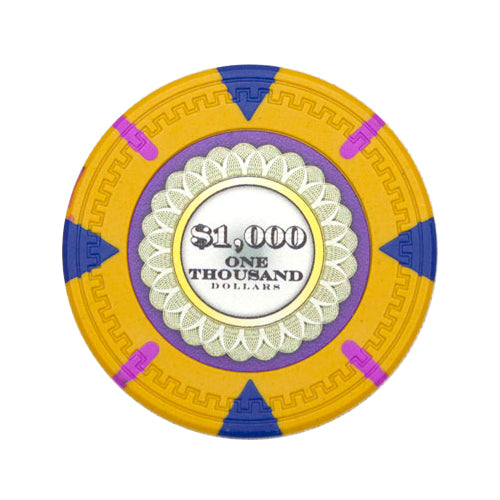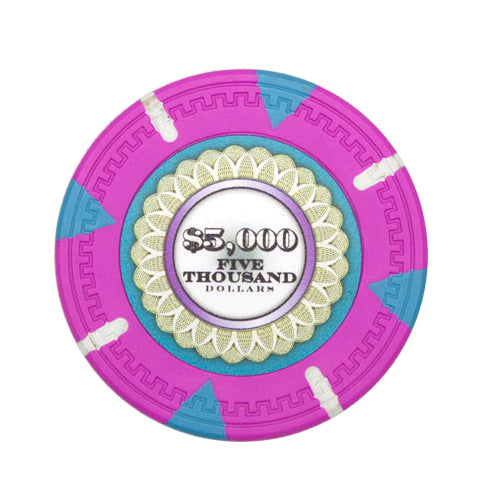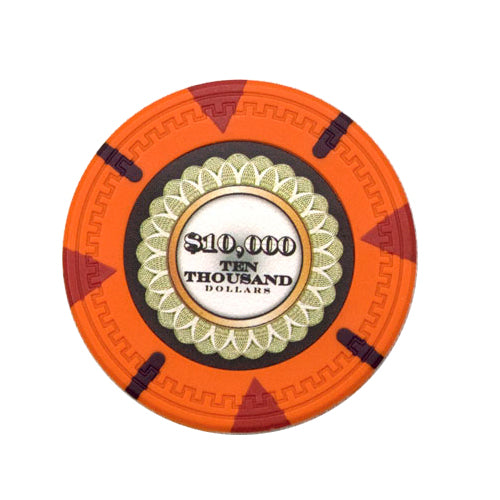 These feel much better than those plastic chips you buy in bulk for like $20.
I had an issue with my package. Seems like when it was in transit to my home, the packaging that it came in had a huge tear. When I received the package, there was 1 huge hole in it, and 2 smaller hole. The box also looked and felt weathered, like cardboard when wet. UPS literally wrapped the package up with 2 layers of tape over it with some C.O.D. red ink over it. I had lost 400 chips of my 1000 order.
I had contacted Chip Cave, and showed pictures of the box and wrote the missing contents of the package. They got me the missing chips very quickly. I was scared that I was going to be out of luck but they came through for me. THANKS!
Mint Chips are great value, inlays could be a bit better.
Overall chip stacking, sound, and quality are above average.
The inlay's really bring this chip down, I find the white background to be a bit reddish and dark on the $5 chips, generally they could use better contrast and brighter colors this would put it a cut above the rest.
I wish ChipCave had better shipping options to Canada, that would make them the best e-tailer to Canada!
Ordered 800 The Mint chips sight unseen. Customer service was great and they arrived in a very ti...
These are probably the best chips for the money I've ever seen. They will last a lifetime. The only negative thing I could say is that some (not all) of the chips are slightly thicker than others which causes some stacking issues. Not a big enough issue to prevent me from getting more.
Excellent service and very fast shipping.
Your website is very easy to navigate.
Quick shipping, great customer service.
Packaging a little rough but I assume its drop shipped. I'd be worried if they where clay chips. This is a return customer order. I came back because of service.