Rock & Roll 13.5 Gram Poker Chips
Regular price
Sale price
$0.24 USD
Unit price
per

Brown Rock & Roll Poker Chip - $0.25

Grey Rock & Roll Poker Chip - $0.50

White Rock & Roll Poker Chip - $1

Red Rock & Roll Poker Chip - $5

Dark Blue Rock & Roll Poker Chip - $10

Green Rock & Roll Poker Chip - $25

Light Blue Rock & Roll Poker Chip - $50

Black Rock & Roll Poker Chip - $100

Purple Rock & Roll Poker Chip - $500

Yellow Rock & Roll Poker Chip - $1,000

Pink Rock & Roll Poker Chip - $5,000

Orange Rock & Roll Poker Chip - $10,000
YOU MIGHT ALSO LIKE
Check items to add them to your basket or select all.
Details
If The King, Elvis were alive he would definitely own a set of the Rock & Roll Poker Chips! Based on the legendary Hard Rock Casino in Las Vegas, these chips are a must have in your next home game.
The Rock & Roll Poker Chips feature a gear wheel mold which make them look like a grinding gear wheel. Each chip has the new Triangle and Stick edge spots which surround the textured surface. All of the edge spots point towards the one of a kind Fender Guitar which is a part of each inlay. On top of the guitar, which is slightly different in each chip is the denomination and a banner that prominently displays the Rock & Roll Casino title.
This chip set comes in 12 different colors and denominations which makes it perfect no matter what limits you are playing. They are sure to keep the party popping, and each player that has them jamming all night long.
| | |
| --- | --- |
| Chip Diameter | 39mm |
| Chip Material | Clay Composite |
| Chip Weight | 13.5 Gram |
| Has Denominations | Yes |
| Inlay Diameter | 25.4mm |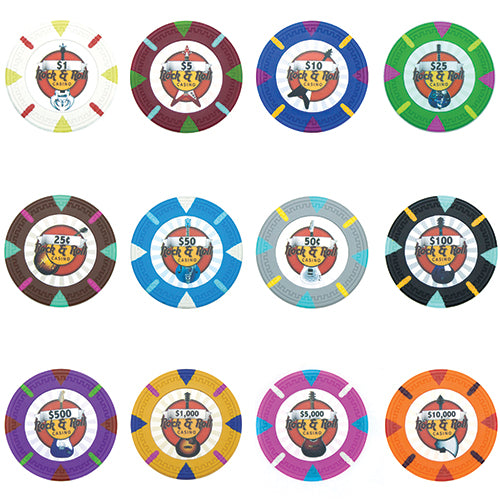 Superb Chips
I ordered these chips along with other sample packs to see which ones i wanted to buy. I can honestly say from playing in many casinos and house games, these have a great feel and sound to them. The design is very nice and having the denominations on them is a plus for house games. For the price you can't beat these. Everyone at your game will love them.