Suited 11.5 Gram Poker Chips
Regular price
Sale price
$0.10 USD
Unit price
per

Black Suited Poker Chips
Blue Suited Poker Chips

Gray Suited Poker Chips

Green Suited Poker Chips

Orange Suited Poker Chips

Pink Suited Poker Chips
Purple Suited Poker Chips

Red Suited Poker Chips

White Suited Poker Chips

Yellow Suited Poker Chips
YOU MIGHT ALSO LIKE
Check items to add them to your basket or select all.
Details
Need a basic set of poker chips for your next home game? Well we have got you covered with the striped dice poker chips! These clay-composite poker chips weigh 11.5 grams each and are perfect for a small home game! Each chip as a wrap around edge that features each suit of poker multiple times. These all surround a blank inlay so you can customize the denominations for each poker chip as you see fit. These chips come in 9 different colors so they are sure to work for any limit game you host ever!
| | |
| --- | --- |
| Chip Diameter | 39mm |
| Chip Material | Clay Composite |
| Chip Weight | 11.5 Gram |
| Has Denominations | No |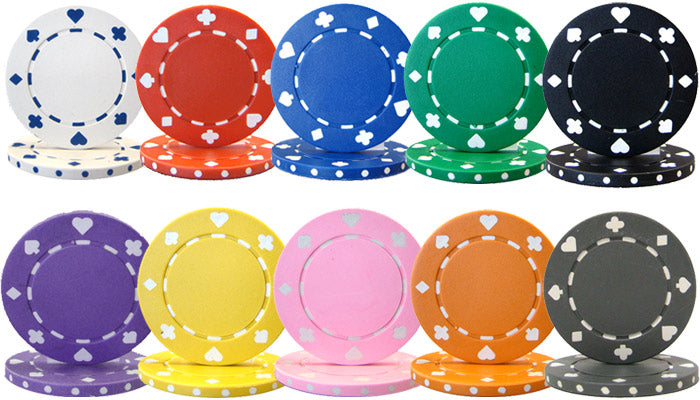 Easy ordering, quality product
I'm a repeat customer many times over. The selection is good, the quality is good, the turnaround is quick, and the support team is always at the ready to answer my questions. What more could anyone want!
Great service!
I found myself in need of several colors of poker chip. Chip Cave not only provided me with everything I needed, but contacted me when there was a back order of stock giving me options to wait another two days or choose an alternative color. Overall, it was fast delivery & well packaged.
Excellent experience
I needed assistance, I received it quickly. I needed an item that was out of stock, it was available quickly. I needed my chips shipped in time for the party, they shipped super quickly. I wish all my shopping experiences could be this pleasant. Thank you Chip Cave!
Good Source
Nick and Chip Cave gang have always come through. I've called for product info from trade show floor and received an answer to customer question. The Chip Cave has always satisfied - and that's why I keep ordering From them.
worth every penny
I actually bought these chips as a reward program for my kids. I purchased 100 of the solid color chips for the lowest point value (in pink for one kid and purple for the offer-so that there's no cheating or stealing involved), 50 of each color in the dice ones and 50 of each color in the suited ones. They turned out to be very reasonably priced, heavy, good quality chips. Plus, the kids love them and are much more willing to do chores now! Lol.
When the time comes to buy chips for actual adult gaming, we're totally coming back to the chip cave!