Yin Yang 13.5 Gram Poker Chips
Regular price
Sale price
$0.12 USD
Unit price
per

White Yin Yang Poker Chips - $1

Red Yin Yang Poker Chips - $5

Dark Blue Yin Yang Poker Chips - $10

Green Yin Yang Poker Chips - $25

Light Blue Yin Yang Poker Chips - $50

Black Yin Yang Poker Chips - $100

Purple Yin Yang Poker Chips - $500

Yellow Yin Yang Poker Chips - $1,000
Pink Yin Yang Poker Chips - $5,000

Orange Yin Yang Poker Chips - $10,000
YOU MIGHT ALSO LIKE
Check items to add them to your basket or select all.
Details
Play poker in perfect harmony with the Yin Yang Poker Chips. These 13.5 gram poker chips feature some of the largest denominations for easy reading and faster gameplay.
These chips are made out of a clay-composite material and feature a twin-stripe edge pattern. The inlay displays the denomination in a enormous font opposite of some of the best hands in poker. These chips are available in 10 different colors and denominations.
| | |
| --- | --- |
| Chip Diameter | 39mm |
| Chip Material | Clay Composite |
| Chip Weight | 13.5 Gram |
| Has Denominations | Yes |
| Inlay Diameter | 31mm |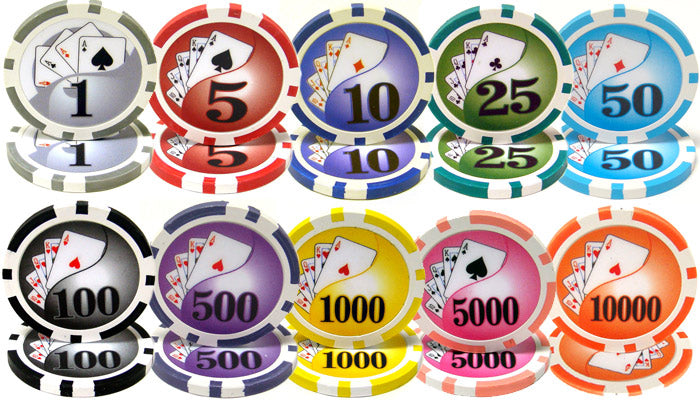 good chips
Clear denominations on chip except color on 100 and 500 to close people having problem have look closely at both chips